Electronics (Studio and Concert)
Here we have an aerial shot of what I look at every day in my studio. This is actually a combination of my concert electronics and my recording looping set-up.
Obviously neither of these are electronics, but accessories to my Cajon that I sit on.
My concert and clinic loopers are the Roland RC-505's, which were design to be used on a table, but as you can see, I trigger them with my big toe.
Two Boss FV-50L are the volume pedals for the Roland loopers.
One Boss FV-50H for my electric guitar and fretless bass.
Going counter-clockwise, starting above the RC-505, is the Strymon TimeLine, the TC Electronics Flashback, the Xotic EP-Booster,the Strymon BigSky and the TC PolyTune.
This is a custom pedal built by Bob Weigel of SoundDoctorIn.com which has four mic mutes for my concert set-up and buttons to scroll pre-set templates on my RC 505's.
Three Keith McMillen QuNeos, which control all the relevant functions of my Ableton Live software which I use for recording.
M-Gear expression pedal, that works with the QuNeos and Ableton Live.
---
Guitar Amplifiers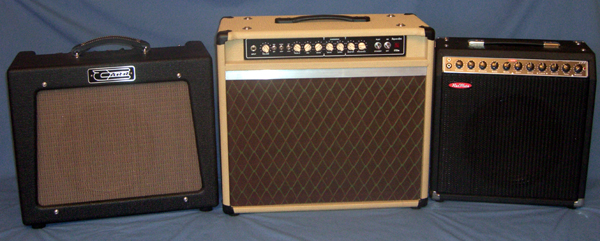 The amplifiers I am using are all based on the older Fender tube amp designs (Blackface and Tweed, as well as the Dumble style amps.) These amps use the 6L6-style power tubes, which is the sound I prefer. From left to right they are the Carr Rambler, the Brown Note D'Lite 44, and the Red Plate CD2. These are all called combo amps with one 12-inch speaker each.
Effect Pedals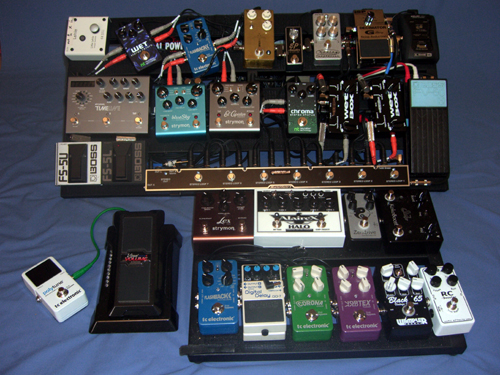 Though there are literally thousands of pedals available on the market, after a lot of testing, I have settled on a selection of gain, overdrive, modulation and delay pedals from an assortment of boutique companies. (Itemized list to come.) The larger pedalboard on top is the one I am currently on tour with along with the volume pedal/tuner (lower left in photo.) This board is controlled by the button strip at its bottom, custom designed by GigRig in the UK.
---
Photos by
Gary Jameson, Reno, NV (775) 825-8999