PURCHASE PORTABLE CHAIR
The Bridger Portable Concert Chair 
...The most comfortable chair you've ever created on!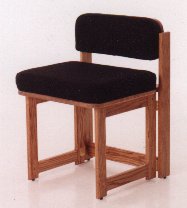 The concert hall may be prestigious, the music may be difficult, the audience may be discriminating, the critics may be ornery--but when you sit down to perform, you're going to feel right at home on your Bridger Portable Concert Chair!
High quality, stained oak construction with durable, padded seat and lower-back support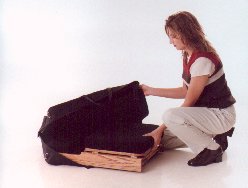 Designed by performing musicians to keep you comfortable during those 8-hour practice sessions...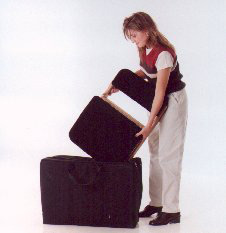 ...then fold it flat to a mere  7" x 18" x 26"...

...put it in the padded carrying case......
and off you go!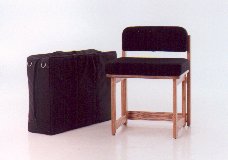 Concert Chair $249.00
Carrying Case $ 59.00
Plus actual cost of shipping
Total boxed weight with case is 26 lbs
Boxed dimensions: 29" x 20" x 9"
For Chair Purchase - Send Check or money order to:
GreenLight Productions
1352 Judy Street, Minden, NV 89423
Please allow 1-2 weeks for delivery